Name
Keith I Mackenzie, son of Kenneth Walter Ingleby Mackenzie, Physician and Surgeon, and Florence Elizabeth Mackenzie of Lansdowne House, Ryde.
Biography
2nd Lieutenant (Pilot) Keith I Mackenzie, Argyll & Sutherland Highlanders, attached to Royal Flying Corps
CWGC record ...
Further information
Name appears on
Ryde Borough War Memorial
and the Memorials at
All Saints Church
and
All Saints Memorial Chapel
Keith I Mackenzie was born in Ryde, Isle of Wight; his father was born in Sidmouth, Devon and his mother in Normanton, Derbyshire [1901 Census].
Mackenzie served with 16th Sqn RFC, and was on a photographic sortie flying a BE.2G aircraft (serial no A2815) when he was shot down 1 km west of Vimy-de-Bonval. The shooting was claimed by the German Rittmaster von Richton.
Information provided by John Bloodworth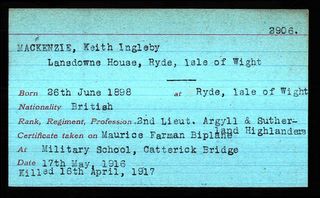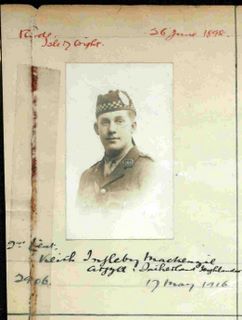 K I Mackenzie's index card and photograph from the Royal Aero Club
image courtesy Ancestry.com. Great Britain, Royal Aero Club Aviators' Certificates, 1910-1950 [database on-line]. Provo, UT, USA: The Generations Network, Inc., 2008. Original data: Royal Aero Club. Royal Aero Club index cards and photographs are in the care of the Royal Air Force Museum, Hendon, London, England.