Name
George Deacon, East Cowes
Biography
RMB/391 George Deacon, Bandmaster 1st Class, Royal Marines
CWGC record ...
Further information
Name appears on East Cowes War Memorial

Bandmaster Deacon is also commemorated on the Royal Naval memorial at Portsmouth.





Geoge Frederick Deacon was a Bandmaster with the Royal Marines and lost his life at the Battle of Jutland on board H.M.S. Invincible. He was the husband of Alice May Deacon, of 2, Jaffra Villas, Clarence Rd., East Cowes, Isle of Wight.

George and Alice Deacon's son, also George Frederick Deacon, was killed in the air raids in East Cowes in 1942 and is buried in the communal grave at East Cowes Cemetery

Photograph and information provided by : Biddy Shephard. George Deacon was her uncle.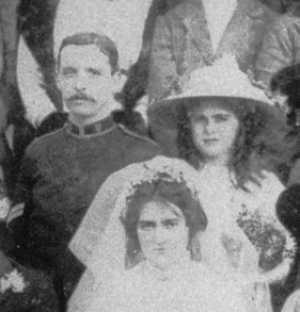 George Deacon and his wife Alice, nee Morey, [front] at their wedding in 1912.