Name
Cecil Harry Barrett, (sometimes known as Harry Cecil Barrett), son of Harry Michael Barrett and Emily Jane Barrett (nee Symonds).
Service details
Private 6933 Cecil Harry Barrett, 1st Bn Dorset Regiment
CWGC record ...
Further information
Born in Ryde in 1883, Cecil Harry Barrett later lived at 45 Trafalgar Road, Carisbrooke (1891 Census).

Cecil Barrett joined the Dorset Regiment some time before the 1914-18 War and was sent to France on 16 August 1914. From the In Memoriam card, we deduce that he was reported missing soon after, but his date of death is recorded as 22 Oct 1914 on the CWGC and "Soldiers died in the Great War" records.

In addition to his name being commemorated at the County War Memorial, Panel 1, his name appears on the Newport Borough War memorial and the St Paul's, Barton Memorial panel.

His brother, Ernest Boyd Barrett also died in the Great War.

He is buried at Hautrage Military Cemetery, Saint-Ghislain, Hainaut, Belgium.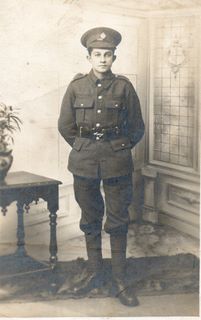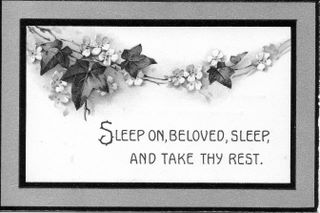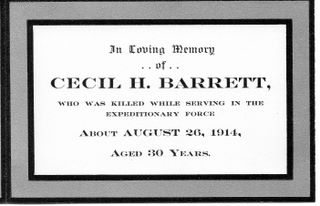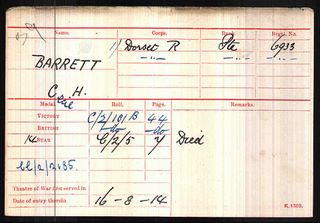 Information and photographs provided by : Ann Barrett. Cecil Barrett was the uncle of the late Les Barrett, Ann's husband.
-------------------------------
page last updated : 17 September 2009 (added to website)