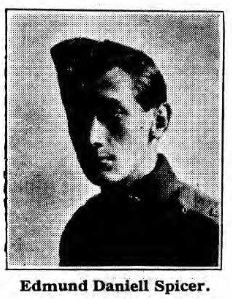 from de Ruvigny's Roll of Honour
Name
Edmund Daniell Spicer, son of Newton and Emma Frances Spicer, of Little Denstone, Parkstone, Dorset (address given on CWGC record)
Edmund Daniell Spicer, younger son of Mrs and Mrs Newton Spicer, of 37 Auriol-road, West Kensington (address given in Death notice
The Times
13 Feb 1917)
Commemorated on the
Freshwater War Memorial
Service details
2/Lt Edmund Daniell Spicer, Royal Flying Corps, 20 Sqn
CWGC record ...
Date of Death :
1 February 1917 aged 18
Where buried or commemorated :
Moorseele Military Cemetery, Wevelghem, West Flanders, Belgium
Aircraft :
FE 2d
Crew :
:
Captain C M Carbert, MC, Canadian Infantry, attd RFC
CWGC record ...
2/Lt Spicer was attached to 89th Army Wing at Iris Farm in Flanders. On is Royal Aero Club Index card, his address is given as The Glen, Freshwater Bay, Isle of Wight. Information about Captain Carbert, can be found on the
Veteran Affairs Canada
website.
Information provided by : John Bloodworth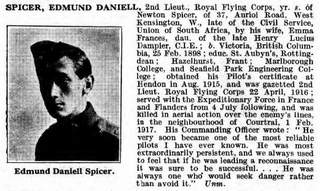 from de Ruvigny's Roll of Honour [click on image to enlarge]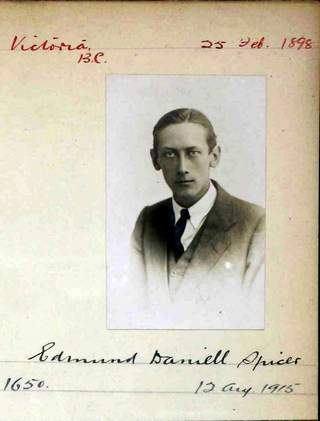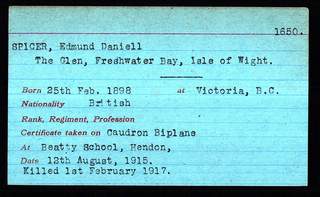 Royal Aero Club index card and album page [Click to enlarge]