Location
Ashley Gardens, Eastern Esplanade, Ryde, Isle of Wight
See map on www.streetmap.co.uk
IWM War Memorials Archive Record
Link :
War Memorials Archive Reference 40856
Historic England Listing Status
This area is not Listed.
Description
A metal plaque commemorating 41 Royal Marine Commando whose officers and men who based in the area in World War II. First installed in 1998.
Originally located on the sea wall, the original plaque, which had been damaged, was replaced by a new plaque in Ashley Gardens in 2010, when a rededication ceremony took place on 3rd May 2010, performed by the Rev James Francis R.N. The new plaque was unveiled by Ryde Town Councillor Arthur Taylor.
Memorial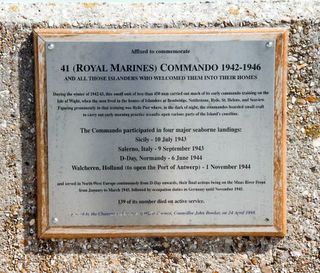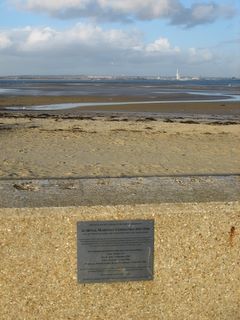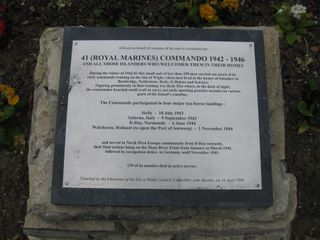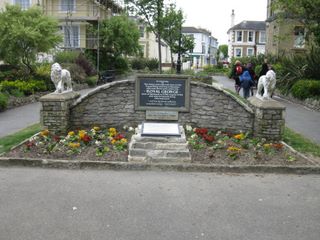 Inscription


Affixed to commemorate

41 (ROYAL MARINES) COMMANDO 1942 - 1946
AND ALL THOSE ISLANDERS WHO WELCOMED THEM IN THEIR HOMES

During the winter of 1942-43 this small unit of less than 450 men carried out much of its early commando training on the
Isle of Wight, when the men lived in the homes of Islanders at Bembridge, Nettlestone, Ryde, St Helens and Seaview.
Figuring prominently in that training was Ryde Pier where, in the dark of night, the commandos boarded small craft
to carry out early morning practice assaults on various parts of the Island's coastline.

The Commando participated in four major seaborne landings :

Sicily - 10 July 1943
Salerno, Italy - 9 September 1943
D-Day, Normandy - 6 June 1944
Walcheren, Holland (to open the Port of Antwerp) - 1 November 1944

and served in North-West Europe continuously from D-Day onwards, their final actions being on the Maas River Front
from January to March 1945, followed by occupation duties in Germany until November 1945.

139 of its number died in active service.

Unveiled by the Chairman of the Isle of Wight Council, Councillor John Bowker, on 24 April 1998



Further Information

The original, damaged, plaque is now on display at the Military Museum at Calbourne Mill.

------------------------------------
Page updated : 9 June 2012 (Original plaque at Calbourne)